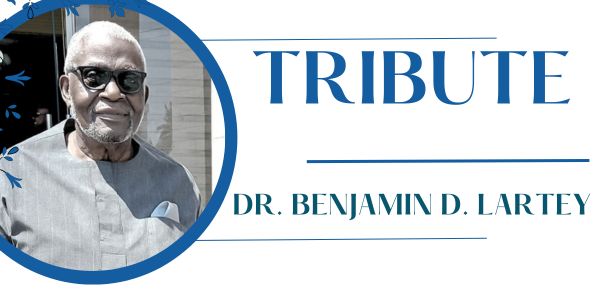 It is with great sadness that the PROCMURA Central Office received the news of the journeying on to eternity of our beloved Dr. Benjamin D. Lartey. The news came through on the morning of 1st of May 2023, with added information that he will be laid to rest on 27th May, 2023.
Dr. Benjamin Lartey who was one-time General Secretary of the Liberia Council of Churches (LCC) was a well-known personality within the PROCMURA fraternity and the ecumenical movement. He served as Chairperson of the Liberia Area Committee of PROCMURA for many years and worked hard to consolidate the Committee by ensuring that an Area Adviser was trained by PROCMURA Central Office to serve the Area Committee and the churches in Liberia in the area of Christian-Muslim relations.
Dr. Lartey's personality and dedication to PROCMURA's ideals and goals made him to be appointed as an Executive Committee member of the organization. He served in that capacity for a period of over ten years and also served on various technical committees of the organization.
He was known for his strong personality, and frankness with a no curve no bend in what he believed and stood for. He exhibited humility but ensured that such humility was not taken for granted to mean timidity.
As a veteran of the Liberia Peace Process during the civil war, he made immense contributions to PROCMURA's focus on peace and peaceful co-existence between Christians and Muslims and indeed in the wider society.
As we mourn one of PROCMURA's committed and resilient personalities within the decision-making processes of the organization, we would like to acknowledge that he may have left us physically but his memory will forever live with us for generations to come.
MAY HIS SOUL REST IN PEACE.
The PROCMURA Family.