Promoting FoRB in Kenya: PROCMURA Trains Young Men and Women From Grassroots CBOs
By

PROCMURA

Hits: 191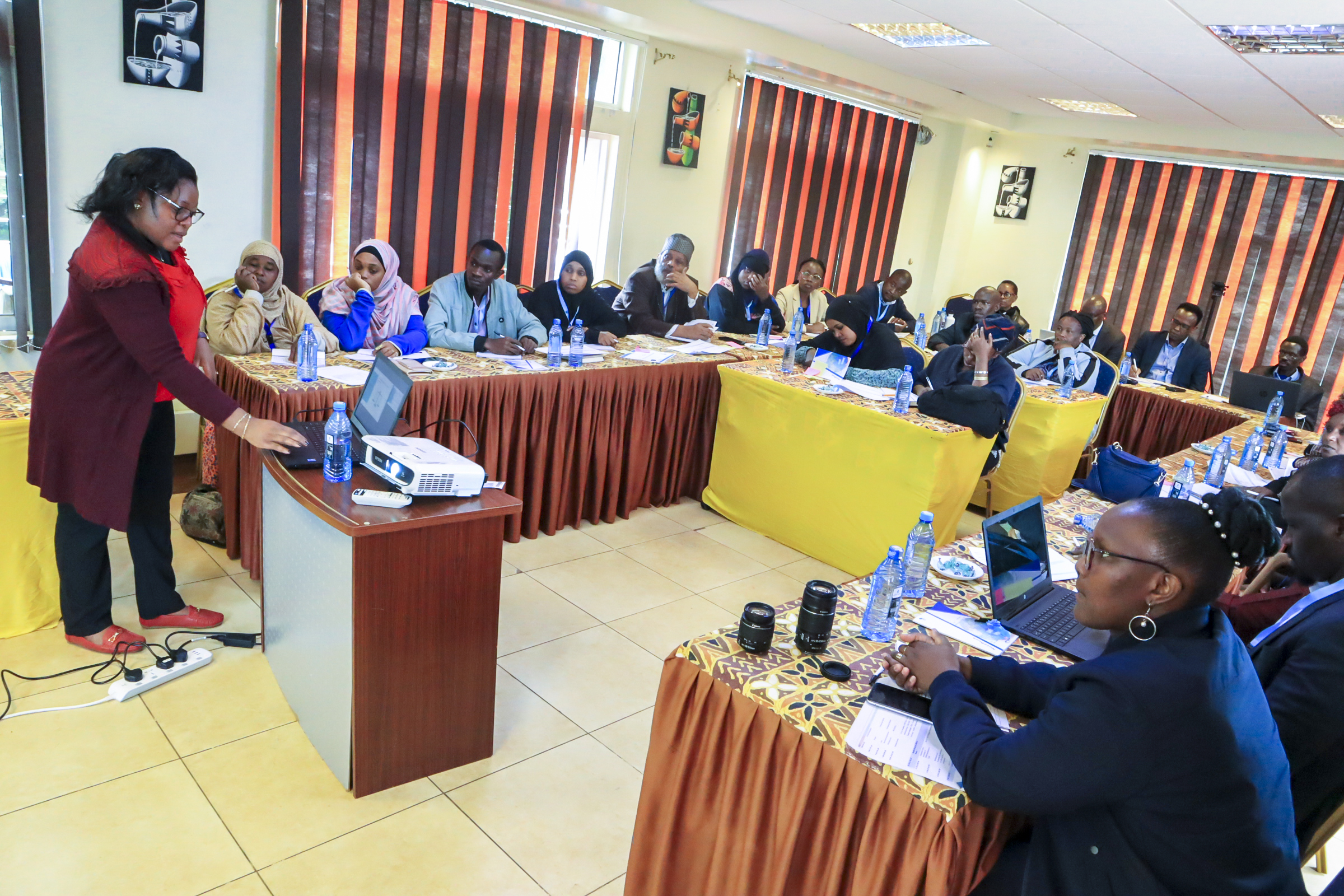 The Programme for Christian-Muslim Relations in Africa (PROCMURA) has been actively working towards promoting religious freedom for all and peaceful coexistence across the African continent. PROCMURA does that by engaging various stakeholders at various levels, including religious leaders, women and youth leaders, government representatives and institutions, and the media, and directly engaging the communities at the grassroots in the efforts to sensitize them to uphold this fundamental human right of respecting one's choice of religion without subjecting them to prejudices and stereotypes.
In addition to that, PROCMURA also builds the capacity of targeted groups on the various aspects of the Freedom of Religion or Belief. More recently, PROCMURA, in partnership with the Danish Minorities' Centre for Human Rights and Development (DMC-HRD), organized and ran a rigorous internal planning and capacity-building workshop on Freedom of Religion or Belief (FoRB) trainers from PHIN Kenya and SADEN Community-Based Organization - two community-based organizations working in informal settlements in Nairobi, Kenya.
The three-day workshop was mainly aimed at equipping the trainers with the necessary skills and knowledge in promoting and protecting FoRB in Kenya and consequently fostering greater religious tolerance, understanding, and harmony between people of different faiths and beliefs.
The two organizations, PHIN Kenya and SADEN Community Based Organization will both be implementing projects to promote the Freedom of Religion or Belief at the grassroots and with funding from the Danish Minorities' Centre for Human Rights and Development (DMC-HRD).
PHIN (Peace at Heart Initiative Network), a community-based organization working in Eastleigh in Nairobi, has been building the capacity of the youth and facilitating community engagements in efforts to address the challenges that they face such as violence and negative ethnicity. On the other hand, SADEN is also a community-based organization based in the Kayole area of Nairobi and works with young women to promote women's rights and participation in social and economic development.
It is on this foundation that PROCMURA has built its legacy of working towards a continent where FoRB is upheld, and any violations are proactively addressed. PROCMURA, in partnership with a number of partners from the NOFORB Learning Platform, has over the past five years trained more than one hundred trainers across Sub-Saharan Africa on promoting and protecting FoRB.
Through the recent training that took place at the PROCMURA Conference Centre from June 26th to June 28th, 2023, the selected trainers from the two organizations had a chance to interact and learn from the experienced PROCMURA FoRB trainers and other carefully selected FoRB trainers in Kenya like LM International and the Nairobi Baptist Church.
Some of the sessions covered included understanding FoRB and its dimensions and limitations in the Kenyan context, FoRB violations, FoRB and women's rights, and the best practices, strategies, and skills in promoting FoRB in Kenya.
While facilitating one of the outdoor interactive sessions, Mr. Sammy Mang'eli from the Nairobi Baptist Church reminded the trainers of the basics of FoRB in relation to our identities as individuals and in identifying some of the prejudices and stereotypes that people suffer based on their religions.
In a session led by the Programme Officer of PROCMURA, Rev. Dr. Salli Ndombo, the trainers had a chance to interact with various case studies and engaged in focused group discussions to enhance their understanding of the dimensions of FoRB that all play into addressing some of the challenges and opportunities in promoting religious freedom for all in Kenya.
The Training of Trainers (ToT) workshop prepared the trainers and broadened their knowledge and skills to enable them to train others and impart to them requisite skills on FoRB.
On her part, PROCMURA's Team Leader, Ms. Joy Wandabwa, reminded participants that Freedom of Religion or Belief protects human beings and not religion hence the need and importance of upholding it at all levels. The workshop will go a long way in having a trickle-down effect in which the trainers can transfer the knowledge and skills learned to a broader audience, thus catalyzing change at the grassroots level.
For a long time now, PROCMURA has been using the Training of Trainers on FoRB as one of the avenues to contribute to increased religious freedom for all across Africa and, in turn, reducing incidences of religious discrimination and violence and promoting a society where every individual can freely practice their religion without any prejudices.
PROCMURA continues with its quest to promote religious freedom across Africa and campaign for all stakeholders to embrace it.